SOPHISTICATED PREDICTIVE ANALYTICS FOR 4 DIFFERENT GROUPS OF USERS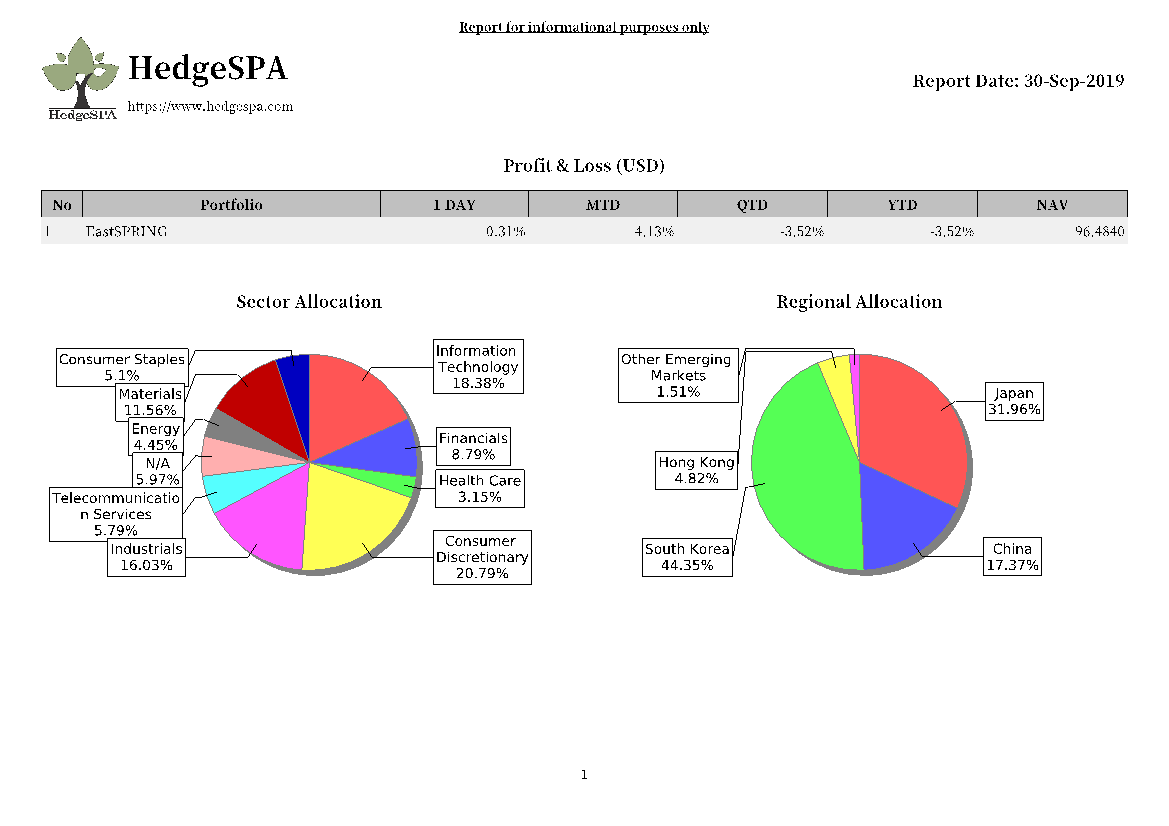 Ability to keep track of daily profit and loss of portfolio managers and external managers, and reconcile with multiple broker reports

Automated distribution of monthly comprehensive rebalancing reports to relevant team members with full administrative control by senior management

Automated dashboard working like a sizeable team that will help senior management ask the right and most impactful questions over a number of portfolios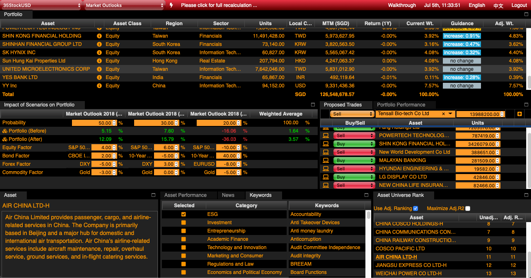 Automated scanning of investment ideas, saving the headaches of running team of junior analysts where consistency and diligence matters
Freeing the manager to focus on big and insightful ideas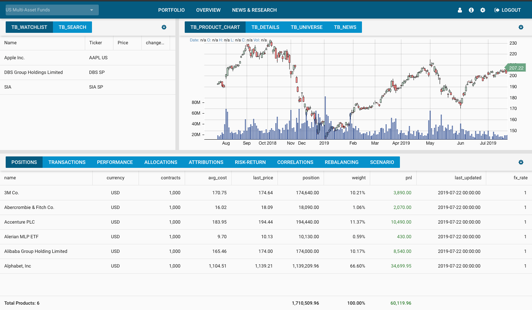 Automated reporting that puts an "iframe" of sophisticated analytics inside provider web portal
Instead of receiving occasional monthly reports, investors now have daily (or as frequently as authorized) reports and can monitor progress directly, leaving far fewer surprises.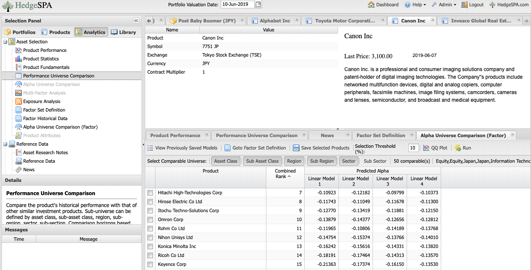 Full, compliance-quality documentation
Add customized components when necessary/ required
Compliance modules
Full ability to reproduce profit and loss based on all portfolio decisions from scratch with the single press of a button
Mass-Affluent Portal
✓ Asset Selection
✓Portfolio Construction and Rebalancing
✓Execution (Freemium)
✓Automated Report (Freemium)
Analytics Terminal
✓ Asset Selection
✓Portfolio Construction and Rebalancing
✓Execution
✓Automated Reporting
✓Support for Multiple Portfolios
Top-Tier Institutions
✓ Asset Selection
✓Portfolio Construction and Rebalancing
✓Execution
✓Automated Reporting
✓Support for Multiple Portfolios
✓Engineering Panel for Full Customization
✓Continuous Monitoring Dashboard
✓Fully Customizable Data Sources
✓Rapid Implementation of Investment Strategies in R Language
✓Regenerate P&L History with One Button
✓REST-ful API
✓Supercomputing Backend
HedgeSPA's scenario analysis allows investment managers to efficiently apply market scenarios to a portfolio. Our research team proactively scans published research to construct scenarios. The scenario analysis service saves time by automatically sorting through each scenario. HedgeSPA uses typical research ranges, giving investment managers useful scenarios to start with, with the option of changing factor shocks if you do not fully agree with consensus views.
There are too many assets and too many factors for an investment manager to analyze manually, and there is simply not enough time. HedgeSPA's Asset Selection Tool can choose assets that deliver persistent performance by removing beta exposures, which are cheap and can be easily implemented by ETFs. Our product detail functionality will show statistics and details about a specific asset, which will make it even easier for investment managers.
Risk and Return Attribution
In order to get portfolios to certain targets, investors must know how much each of the asset classes and assets must contribute to the overall goal. With our risk and return attribution service, those investors can easily obtain in real time precise calculated results instead of doing complicated calculations themselves. By selecting an existing asset in a portfolio, investors can see how much revenue it is gaining and how much tail-risk it is contributing to the portfolio.
Multi-Asset & Multi-Frequency
Most portfolios contain multiple classes of assets, such as some bonds, some equity, and some commodities. Because of this, the frequency of data processing is not the same for all assets, since some give daily prices, while others only give monthly prices. Most systems cannot handle multi-frequency data. However, HedgeSPA's platform is able to analyze prices of several frequencies: it processes all these data separately and precisely and adds them to an existing portfolio.
For portfolio managers, it is extremely important to understand what is causing bad performance in their portfolios. Experienced portfolio managers isolate problematic factors and replace the old asset with a new one that does not have the same factor. HedgeSPA's performance universe comparison does this for you: it neutralizes the beta value to the factor so the manager can focus on stocks and other assets, experience less drawdown risk, and still have the same investment view as before.
Manually generating reports is as tedious as it is necessary for investment managers, because although they would rather spend their time on improving their clients' portfolios, they need to keep their clients updated at the same time. HedgeSPA's reporting service can quickly and automatically generate unbiased client reports, thus saving investment managers time, money, and even human capital.

HOW CAN WE HELP?
Harness the Power of Artificial Intelligence, Big Data and Cloud Computing to achieve Investment Outperformance!